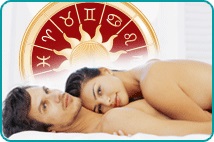 Astrology sexuality displays the sexual horoscope for people of the twelve zodiac signs. Each star sign is shows different personality traits and this is reflected in your sexuality. Understanding the sexual likes and dislikes of your partner can increase your sexual pleasures and enjoyment in bed.
Sexuality is deeply influenced by the zodiac sign you are born under. Knowing how you or your partner will react when it comes to sex can help you both have a better physical relationship, thus improving the love compatibility between couples.
Read on to know more about the astrology sexuality traits and sexual personality of people under the 12 zodiac signs namely Aries, Taurus, Gemini, Cancer, Leo, Virgo, Libra, Scorpio, Sagittarius, Capricorn, Aquarius, Pisces.
The Aries Sexuality 2015
People of the Aries zodiac sign are known to be passionate, intimate and energetic in bed. They are sexually appealing but at times can be bossy and dominating. The Aries woman is known for her charm and magnetic sexual traits.
The Taurus Sexuality 2015
The Taurus is known to be the most giving of all the zodiac signs. A true lover, Taureans are ready to go to all extent to please their partners when it comes to sexual pleasures. They love a lot of foreplay and sex for them is full of lust and passion.
The Gemini Sexuality 2015
Gemini zodiac sign makes great partners who believe in mental stimulation first. Once they are sexually aroused, then there is no looking back. They love to try out new sexual positions and believe in passionate lovemaking.
The Cancer Sexuality 2015
The Cancer sign people take time to warm up to their partner. But once they are emotionally comfortable, they make great lovers. They are very sensual and intense in their lovemaking and ready to try out new sexual experiments.
The Leo Sexuality 2015
Leos love to be the dominating partner in any relationship. Along with sex, Leo sun sign believes in emotional bonding if they are serious about the relationship. They make wonderful lovers who need to be told that they are wanted by their partner.
The Virgo Sexuality 2015
The Virgo zodiac sexual personality believes in planning even their sex lives. They need to know in advance how their sexual episode will turn out to be. They are deeply sensual and full of passion but do not divulge their sexual fantasies easily.
The Libra Sexuality 2015
Librans prefer sexual partners towards whom they are sexually attracted. They make sensual lovers and are ready to accept partners whom they find sexually appealing. They are ready to make compromises to please their partner.
The Scorpio Sexuality 2015
Scorpio astrology sign loves experimenting and trying out new stuff when it comes to sex. They love to play and run away from commitment. They have an intense sexual appetite and make very possessive lovers.
The Sagittarius Sexuality 2015
Sagittarius zodiac love a fast and exciting sexual relationship that doesn't hold them down. They tend to get bored easily and need to try something new all the time. They are passionate and lustful and sexually demanding.
The Capricorn Sexuality 2015
Capricorn star sign make great lovers but find it difficult to bond emotionally. They usually do not make the first move in sexual encounters. They satisfy their partners sexually and have a sense of adventure when it comes to lovemaking.
The Aquarius Sexuality 2015
Aquarius sun sign believe in trying out unconventional experiments when it comes to sex. They love to be sexually dominating and mentally stimulated in their relationships. Wild and unpredictable sex is a trademark of their lust and passion.
The Pisces Sexuality 2015
Pisces indulge in sexual fantasies which makes them erotic and passionate lovers. They enjoy sexually pleasing their partners before their own sexual needs are fulfilled. Psychological enjoyment is more important to them than physical pleasures.
Horoscope sexuality thus gives you an astrological analysis of your sexual preferences and sexuality.
The 12 Zodiac Sexual Signs

| | | | | | |
| --- | --- | --- | --- | --- | --- |
| Aries Sex | Taurus Sex | Gemini Sex | Cancer Sex | Leo Sex | Virgo Sex |
| | | | | | |
| Libra Sex | Scorpio Sex | Sagittarius Sex | Capricorn Sex | Aquarius Sex | Pisces Sex |
| | | | | | |