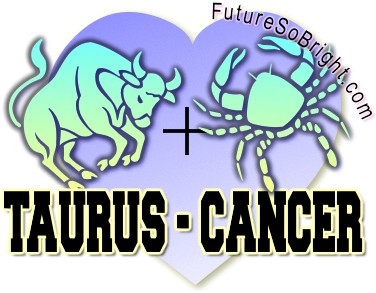 Taurus and Cancer Compatibility 2015
Both are sensitive and have simple lifestyles. They care for each other, make friends easily and are full of sympathy. They live in their own world oblivious of things around them. Their common characteristics will make them good compatible partners in a long lasting relationship.

Taurus Man Cancer Woman
Both are looking for emotional satisfaction. She is very creative and he is attracted by her new ideas. Both like solitude and like to enjoy each other's company. Problems may come up when he is overbearing and her dislike of being controlled by him. Otherwise the compatibility is very good.
Taurus Woman Cancer Man
This is a perfect combination which can last for life. Cancer man is highly romantic and committed to her at the same time. Taurus woman likes to pamper him and keep him comfortable always. This is a good recipe for a happy relationship.

More detailed Taurus compatibility 2015 reading coming soon...