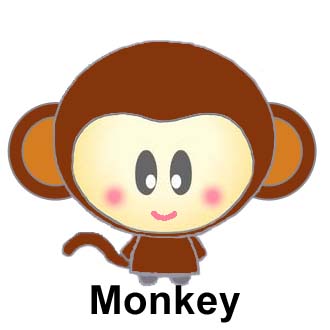 The Monkey horoscope 2014 predicts a slow Year of the Horse. Do not be hasty and be frustrated with life. Things will work out but at its own sweet pace.

The Monkey animal sign people will need to concentrate more on their work. Silly mistakes can cost you your job. Stop taking things for granted and put in extra effort to achieve your goals.

Managing your finances will be a top priority according to the 2014 Monkey horoscope. Expect lot of expenses and indulgent shopping sprees.

The 2014 Chinese horoscope also forecasts that you will need to spend good time with your partner or spouse if you want your relationship to go to the next level.

The health of the Monkey animal sign might be a little delicate in 2014. More love and care is required than any kind of medicine for your mental agony.

The 2014 Chinese astrology Monkey predictions suggest that you take life easily, and enjoy the moment.
2014 Chinese Horoscopes
The Rat
The Ox
The Tiger
The Rabbit
The Dragon
The Snake
The Horse
The Sheep
The Monkey
The Rooster
The Dog
The Pig