Chinese Zodiac Forecasts 2017 For The RABBIT Animal Sign
Year Of STRUGGLES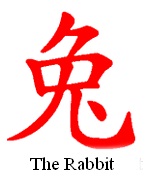 The 2017 Chinese horoscope for the rabbit animal sign predicts that this year 2017 might make you struggle a bit. You might get some bad vibes from near and dear ones. You need to handle all these situations with patience. Do not be hasty, for it might lead to failure. This is a year for planning for the future in all aspects of your life, be it love, career, health or wealth.
People born in the year of Rabbit are good at solving complex problems and in arriving at good solutions. That is why many diplomats and politicians are born in the Rabbit years. Rabbit animal sign people are known to be lucky and attract good fortune.
Being peaceful by nature, Rabbit people seldom fight or lose their temper. Rabbit zodiac sign are kind natured and never think of harming anyone. They are extremely clever in business dealings and never back out after signing a contract. Roger Moore and Orson Welles were born in the Chinese Year of the Rabbit.
Career & Business:
Rabbit career horoscope for 2017 predicts that work and career might be affected this year. Over confidence and impudence might tamper your objectives. Patience is the key to handling difficult situations that you might face at work. This does not mean that you give up. Keep up your efforts and you will enjoy the results in the coming years.
Money & Finance:
Money will not be easy in the coming year. There might be no extra income for the Rabbit animal sign but your earnings will take care of your expenses if you spend prudently.
Love & Relationships:
There are chances for new relationships to develop in 2017. Lovers might also have to go through a period of separation. Married couples will develop deeper understanding towards each other.
Health & Well Being:
Health will be affected by the stress at work. The 2017 Chinese astrology health predictions show that people of the rabbit sign need to make more effort and spend more time consciously towards leading a better quality of life.
Family & Friends:
You will find innovative ideas to improve your domestic life. Family and friends will give total support to people of the Rabbit animal sign.
Corresponding Western Astrology Zodiac Sign >> Pisces