Chinese Astrology Predictions 2017 For The HORSE Animal Sign
Year Of CONFLICTS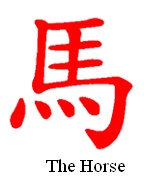 2017 Chinese Horse horoscope predicts that people of the Horse sign should take immense care while starting a new project, because they might face a some unexpected problems. Those problems might include conflicts, violence, financial loss and other such issues.They should also be hardworking and smart while dealing with difficult situations.
People born under Horse astrology sign are self confident, free loving and like to be the talk of the town. They like to be flattered, but they are smart enough to differentiate between false praises and positive criticism. They have a lot of friends and are usually friendly with everyone.
The Chinese Horse animal sign are honest and genuine to everyone. If you can win the heart of a Horse zodiac person, they will go to any extreme to help you with your situation. They might be defensive by nature but are courageous too. Sean Connery and John Travolta are born in the Year of the Horse.
Career & Business:
If people of this astrology sign, remain positive and ignore negative vibes, they can achieve success in 2017. You need to be resourceful and independent if you wish to get fruitful results for your hard work. Expect lot of pressure at work. Business deals may go through but after a lot of effort.
Money & Finance:
The financial predictions for the Horse sign are positive in 2017. But expect a rise in expenses too. Be careful in monetary dealings or else you may get cheated.
Love & Relationships:
Love and romance may be a bit strained. Love affairs may fail. Minor arguments and misunderstandings can add a lot of bitterness to your relationships.
Health & Well Being:
Avoid anxiety and insomnia by taking care of your health. Alternative therapy can give you a lot of relief. Take extra care of respiratory related illness.
Family & Friends:
There might be good support from friends and family in 2017. People planning to start a family, can go ahead.
The 2017 Horse horoscope thus forecasts a slightly difficult year that can be made easy by making wise decisions.
Corresponding Western Astrology Zodiac Sign >> Gemini