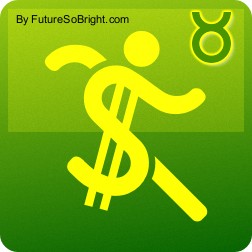 Taurus zodiac money horoscope gives you a clear insight into your financial and monetary dealings in 2014.
There may be financial concerns that the Taurus star sign will discover during 2014. The Taurus 2014 financial predictions do not predict any major expenses so make sure you're saving for the future. It is a time to think about your future rather than to set aside too much.
Whatever investments you are interested in it is a good time for them. Build your financial future by planning not only for today but for your golden years. This is a time to buy only what you actually need any extras should be put aside in 2014. There could be the need for a medical cost near the end of the year most likely for a family member. Do be prepared.