Chinese Astrology Predictions 2017 For The ROOSTER Animal Sign
Year Of SUCCESS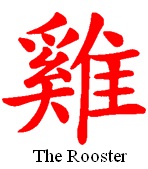 According to the Chinese Horoscope for 2017, Rooster zodiac sign people will taste success and prosperity in everything they do this year. All you need to do is be alert and strive to make the most of the situation. Family life will be peaceful. There may be some stress in work and business activities. Financial predictions for 2017 are excellent. Health will need to be monitored.
Chinese Rooster animal sign is considered to be the luckiest of all zodiac signs by the Chinese because number ten is their lucky number and Rooster is the tenth animal in the Chinese Zodiac. Rooster people are both good and successful in their observations. They love to be the centre of attention among their family and friends. Eric Clapton is one such person born in the Year of the Rooster.
Career & Business:
Year 2017 will be a successful year with respect to career for Rooster people. Their growth chart will be positively inclined this year. Do not spend time on unimportant work and learn to accept failures with ease. Expect lot of pressure and tension at work. But confidence and willpower can make you overcome the strongest of odds.
Money & Finance:
2017 will be excellent in terms of money, income, wealth according the money horoscope forecast. Your investments will give you good returns. Hike in salary is also on the cards. This is the right time to save for the future.
Love & Relationships:
Love and romance will be good in this year. People who are looking for true love will be lucky and those already in relationships may get engaged or married. Marriage predictions for couples foretell that your relationship will become better and stronger.
In matters of love, Rooster zodiac sign people always think they are right and so their relationships might be shaky at times. So you need to be more understanding and patient if you wish to have happy relationships in 2017.
Health & Well Being:
Even though stars are in your favor, 2017 health predictions foretell that you might have some health problems. You are advised to keep your mind open and believe in your inner strength to reap good benefits in 2017. There may be some unexpected accident, so take required precautions and avoid participating in dangerous activities. Family members too may be affected with ill-health. Injuries in sports may occur. Control your diet and do not indulge in unhealthy food.
Family & Friends:
In 2017, Chinese zodiac predicts that Roosters will travel a lot and spend a lot of time in socializing with others. You will have total support from family as well as friends. Couples planning to have children can go ahead this year. Relationships with parents and children will improve in 2017.
Now that you know the 2017 Fortune for the Rooster animal sign, enjoy life and be prepared for your good and bad fortunes.
Corresponding Western Astrology Zodiac Sign >> Virgo