Chinese Astrology Predictions 2013 For The ROOSTER Animal Sign
Year Of SUCCESS
Chinese Rooster animal sign is considered to be the luckiest of all the Zodiac signs among the Chinese because number ten is their lucky number and Rooster is the tenth animal in the Chinese Zodiac. Rooster people are both good and successful in observation. Roosters travel a lot and are good in socializing with others. Also they try a lot to be the centre of attention among their family and friends.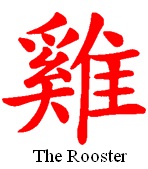 Rooster zodiac sign people always think they are right and so their relationships might be shaky at times. They always seem to be busy and do not accept failures with ease. Eric Clapton is one such person born in Rooster year.
Year 2013 is going to be successful year in career for Rooster people. Their growth chart will be inclined this year. If people born in the year of Rooster keep their mind sharp and strive a little, they can achieve a lot in 2013.
Chinese Horoscope 2013 predicts that they will have internal support from their family as well as from friends. Even though stars are in their favor, they might have some health problems. They are advised to keep their mind open and believe in their inner strength to reap good benefits in 2013.
Corresponding Western Astrology Zodiac Sign >> Virgo