One's personality mirrors through his or her fashion statements and stylization cloaked in secrecy, mystery and glamour Scorpions rule the fashion world as naturals. They are known to be the sexiest of all the zodiac signs and love to expose skin a little more than others.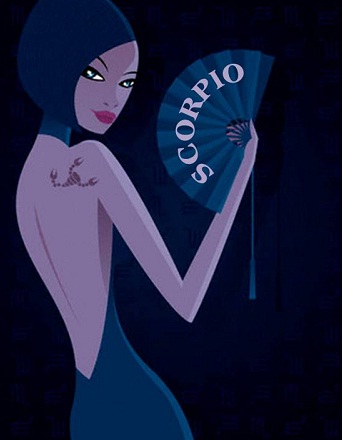 'Scorpio' is known to be one of the most dominant Astrological signs in the zodiac. These born leaders, remain resolute and vigorous throughout their lives. Contrary to their stern and firm outside, Scorpions tend to be very emotional inside, and live hard and love hard, sharing unconditional loyalty and burning passion with their near ones. However anyone who proves to be disloyal can seldom escape the deadly sting of Scorpions.

A born charmer and the owner of magnetic personality, Scorpions often prove to be good in sales and business. Fearless in nature they also do well in any job which involves risk factor like in share market or finance. Out of box, creative thinking makes them proficient in professional field but innate sense of jealousy and skepticism often shatter their personal lives.

Autocratic, a Scorpion's demeanor evokes self confidence and leadership qualities and their polished professional attire, suit and tie in their signature color black add some more feathers to their cap. Men in black often echo their cheerful mood through the colors burgundy and midnight blue as well. Pair of black pants and black boots are a must in every Scorpion' wardrobe.

Scorpio men always have high opinions of themselves and know very well how to allure the opposite sex. They treat clothes as tools for seduction. Their rebellious jeans and skin tight t- shirt, with flaunting masculinity remains amongst the Scorpion's as well as their sweetheart's an all time favorite.

What is common in Julia Roberts, Anna Hathaway, Demi Moore, Brittany Murphy? They all are queens of the box office but they don't offer a box office view into their hearts which is securely guarded by their mesmerizing secretive eyes. Their innocent face and blameless ethereal smile apparently contradicts their shadowy penetrating eyes which hints intelligence and maturity. Simple clothes with subtle sexy touch are the Scorpion women's trade mark dropping a sheer hint that appearances can be deceptive.

Scorpio is all about power and not fashion so to grab that power, a Scorpio woman can mould her outward self anytime. They can alter their look easily from cutie pie to head to toe veiled nun in case it serves their unerring purpose. She is a trendsetter and her way of fashion is followed by others immediately after, however she switches her fashion tricks again and again as she hates to be part of the crowd.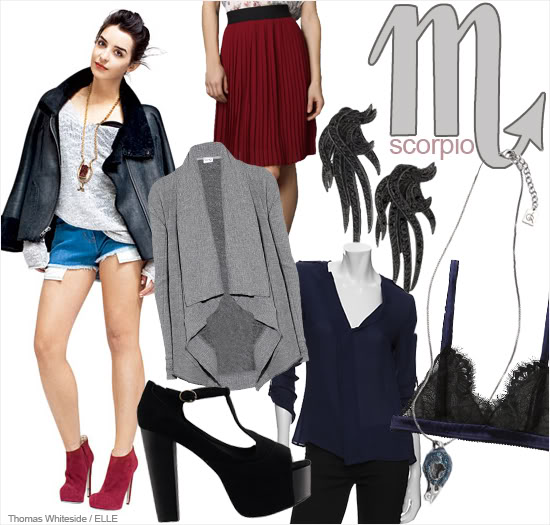 You never know fully a scorpion woman's heart as she is very good at veiling her emotions. Fashion that looks expensive but conceals a cheap label, fascinates them; bags with hidden pockets, lockets with engraved photos, eyes hidden behind glasses and excessive mascara always serve their main motto to keep everyone guessing. High heels and denim short skirts always suit their intriguing image the best.

Scorpions, like other water signs seldom care for luck factors and rely upon their own intuitions mostly. However for perfect amalgamation of luck and fashion all Scorpio people must know golden yellow is their luckiest color and Topaz suits them best.

Tattoos, Leather, silk are synonymous with Scorpio fashion and baggy, loose fitted clothes are hated by most of the Scorpion people. The inner charm and stormy passions of Scorpions make them conspicuously fashionable in nature, and they hardly require any added outward adornment to look gorgeous.